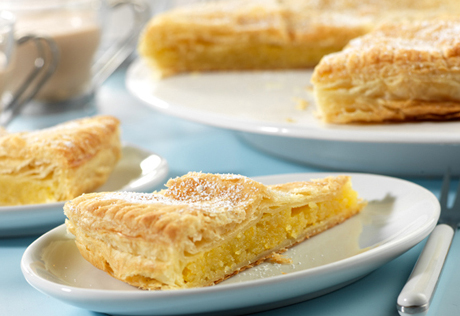 Ingredients & Directions
1 cup sliced blanched almonds
0.333 cup sugar
1/4 cup (1/2 stick) unsalted butter, softened
2 egg
1 tablespoon grated orange zest
1 teaspoon vanilla extract
1 package (17.3 ounces) Pepperidge Farm® Puff Pastry Sheets, thawed
1 teaspoon water
2 tablespoons confectioners' sugar
Heat the oven to 375°F.  Place the almonds, sugar, butter, 1 egg, orange zest and vanilla extract into a food processor.  Cover and process until the mixture is smooth.
Unfold 1 pastry sheet on a lightly floured surface. Roll the pastry sheet into an 11-inch square. Cut into a 10-inch circle.  Repeat with the remaining pastry sheet.
Place 1 pastry circle onto a baking sheet.  Spread the almond mixture on the pastry circle to within 1 inch of the edge. Beat the remaining egg and the water in a small bowl with a fork or whisk.  Brush the edge of the pastry circle with the egg mixture. Place the remaining pastry circle over the filling.  Crimp the edges of the circles together with a fork.
Bake for 25 minutes or until the pastry is golden brown.  Remove the pastry from the baking sheet and let cool completely on a wire rack.  Sprinkle the pastry with the confectioners' sugar.