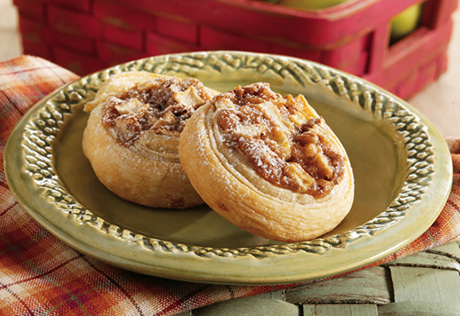 Ingredients & Directions
1 cup packed brown sugar
1/2 cup all-purpose flour
1 teaspoon ground cinnamon
1/8 teaspoon ground nutmeg
2 large Granny Smith apple, peeled and diced (about 2 cups)
1 cup chopped pecans
1 tablespoon butter, cut into pieces
1/2 of a 17.3-ounce package Pepperidge Farm® Puff Pastry Sheets(1 sheet), thawed
1 tablespoon confectioners' sugar
Heat the oven to 375°F.  Lightly grease a baking sheet.
Stir the brown sugar, flour, cinnamon and nutmeg in a medium bowl.  Add the apples, pecans and butter and toss to coat.
Unfold the pastry sheet on a lightly floured surface. Roll the pastry sheet into a 15x10-inch rectangle. Brush the pastry sheet with water. With the long side facing you, spoon the apple mixture on the pastry to within 2 inches of the long sides and to the edge of the short sides. Starting at a long side, roll up like a jelly roll. Cut the pastry roll into 12 (1 1/4-inch) slices. Place the pastry slices, cut-side down, onto the baking sheet.
Bake for 15 minutes or until the pastries are golden brown. Remove the pastries from the baking sheet and let cool on a wire rack for 10 minutes.  Sprinkle with the confectioners' sugar.
Tips
Flavor Variation: You can substitute walnuts for the pecans if you like.