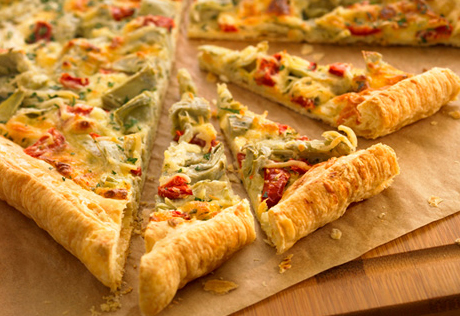 Ingredients & Directions
1 package (8 ounces) cream cheese, softened
1 cup shredded mozzarella cheese(about 4 ounces)
1 cup freshly grated Parmesan cheese(about 4 ounces)
1 can artichoke hearts, drained and chopped
1/2 cup diced roasted red bell pepper
1/4 cup chopped fresh parsley
1 package (17.3 ounces) Pepperidge Farm® Puff Pastry Sheets, thawed
Heat the oven to 400°F.
Stir the cream cheese, mozzarella cheese and 1/4 cup Parmesan cheese in a medium bowl.  Stir in the artichokes, red pepper and parsley.
Unfold 1 pastry sheet on a lightly floured surface.  Roll the pastry sheet into a 12-inch square.  Place the pastry sheet onto a baking sheet.  Brush the edges of the pastry with water.  Fold over the edges 1/2 inch on all sides, crimping with a fork to form a rim.  Prick the center of the pastry thoroughly with a fork.  Repeat with the remaining pastry sheet.
Divide the cheese mixture between the pastries and spread to within 1/2 inch of the rims.  Sprinkle with the remaining Parmesan cheese.
Bake for 20 minutes or until the pastries are golden brown and the cheese is melted.  Let the pastries cool on the baking sheets on wire racks for 5 minutes.  Cut each pastry into 20 pieces.
Tips
Time-Saving: Substitute 1/2 cup shelf-stable grated Parmesan cheese for the freshly grated cheese.
Make-Ahead: Prepare and refrigerate the artichoke filling up to 5 days in advance.