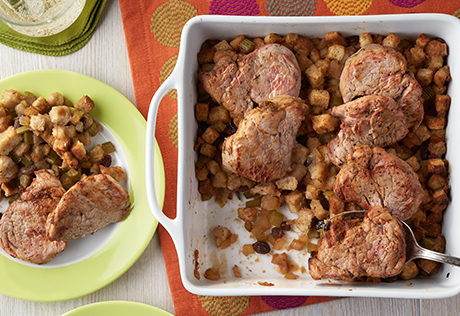 Ingredients & Directions
1 boneless pork tenderloin, cut crosswise into 8 thick slices
2 tablespoons butter
1 stalk celery, chopped (about 1/2 cup)
1 medium onion, chopped (about 1/2 cup)
1 cup Swanson® Chicken Broth
1/2 cup sweetened applesauce
4 cups dry Pepperidge Farm® Herb Seasoned Stuffing
2 tablespoons raisins
Heat the oven to 400°F.  While the oven is heating, season the pork as desired.  Heat 1 tablespoon butter in a 12-inch skillet over medium-high heat.  Add the pork in batches (you don't want to overcrowd the skillet- it will prevent good browning) and cook until browned on both sides.  Remove the pork from the skillet.
Heat the remaining 1 tablespoon butter in the same skillet.  Add the celery and onion and cook until tender-crisp, stirring often.  Add the broth and applesauce and heat to a boil, stirring to scrape up the browned bits from the bottom of the skillet.  Add the stuffing and raisins and mix lightly.  Spoon the stuffing mixture into an 8x8x2-inch baking dish.  Top with the pork.
Bake for 15 minutes or until the pork is cooked through.  Serve hot.