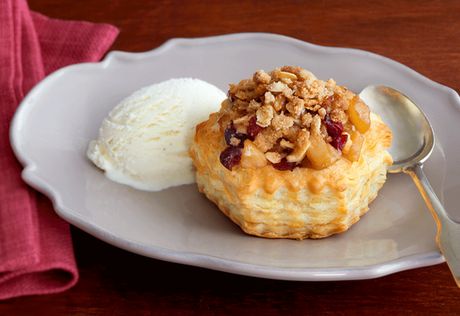 Ingredients & Directions
1 tablespoon vegetable oil
2 Bosc pear, peeled and diced
0.333 cup sweetened sweetened dried cranberries
2 tablespoons balsamic vinegar
4 tablespoons packed brown sugar
3 tablespoons chopped walnuts, toasted
3 tablespoons all-purpose flour
3 tablespoons old fashioned oats
2 tablespoons butter, melted
1/2 teaspoon ground cinnamon
1 package (10 ounces) Pepperidge Farm® Puff Pastry Shells, prepared according to package directions
3 cups vanilla ice creamor whipped cream
Heat the oven to 400°F.

Heat the oil in a 12-inch skillet over medium-high heat.  Add the pears and cook for 6 minutes or until golden brown, stirring occasionally.

Stir in the cranberries and vinegar and cook for 1 minute.  Stir in 1 tablespoon brown sugar and cook for 1 minute or until the pears are glazed.  Stir in the walnuts.  Remove the skillet from the heat and let the mixture cool for 30 minutes.

Stir the flour, oats, butter, cinnamon and remaining brown sugar in a medium bowl.

Spoon about 1/3 cup pear mixture into each pastry shell.  Top each with about 1 tablespoon oat mixture.  Place the filled shells onto a baking sheet.

Bake for 15 minutes or until the oat mixture is golden brown.  Serve with the ice cream.

Tips
Ingredient Note: Bosc pears are warm brown in color and have firmer flesh than some other varieties.  They are in season from late September through April or May.