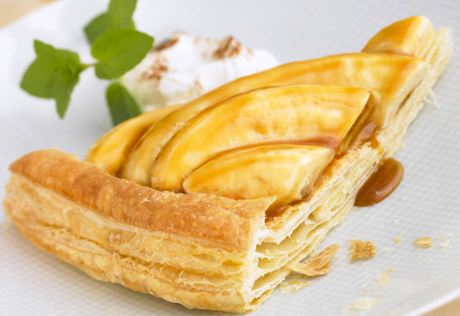 Ingredients & Directions
1/2 of a 17.3-ounce package Pepperidge Farm® Puff Pastry Sheets(1 sheet), thawed
6 medium banana, peeled
1/2 cup plus 1 tablespoon packed brown sugar
1/4 cup rumor 1 tablespoon rum extract
2 tablespoons butter
1 tablespoon lemon juice
1/2 teaspoon ground cinnamon
1 cup sour cream
Heat the oven to 425°F.
Unfold the pastry sheet on a lightly floured surface. Cut the pastry sheet into a 9-inch circle.  Place the pastry circle onto a baking sheet.
Bake for 10 minutes or until the pastry is golden brown. Remove the pastry from the baking sheet and let cool completely on a wire rack.

Cut the bananas in half lengthwise then crosswise into slices.
Heat 1/2 cup brown sugar, the rum, butter, lemon juice and cinnamon in a 10-inch skillet over medium heat to a boil. Cook and stir for 2 minutes or until the mixture is thickened.  Add the bananas and toss to coat.
Stir the sour cream and remaining brown sugar in a small bowl. Spoon the banana mixture onto the pastry. Top with the sour cream mixture.