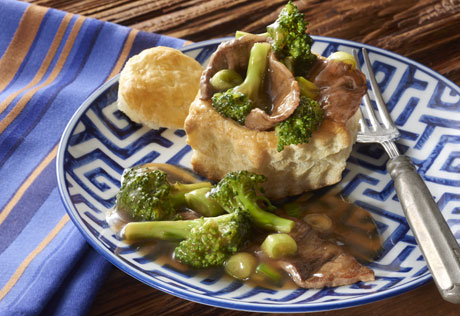 Ingredients & Directions
2 tablespoons cornstarch
1.75 cups Swanson® Beef Broth or Swanson® Beef Stock
1 tablespoon soy sauce
2 tablespoons vegetable oil
1 pound boneless beef sirloin steak or beef top round steak, 3/4-inch thick, cut into very thin strips
4 cups broccoli florets
2 green onion, sliced (about 1/4 cup)
1 package (10 ounces) Pepperidge Farm® Puff Pastry Shells, prepared according to package directions
Stir the cornstarch, broth and soy sauce in a medium bowl until the mixture is smooth.
Heat 1 tablespoon oil in a 10-inch skillet over medium-high heat. Add the beef and stir-fry until well browned, stirring often. Remove the beef from the skillet. Pour off any fat.
Heat the remaining oil in the skillet. Add the broccoli and onions and stir-fry until tender-crisp.
Reduce the heat to medium. Stir the cornstarch mixture in the skillet. Cook and stir until the mixture boils and thickens. Return the beef to the skillet. Cook until the beef is cooked through. Divide the beef mixture among the pastry shells.
Tips
Ingredient Note: To make slicing easier, freeze the beef for 1 hour before slicing.