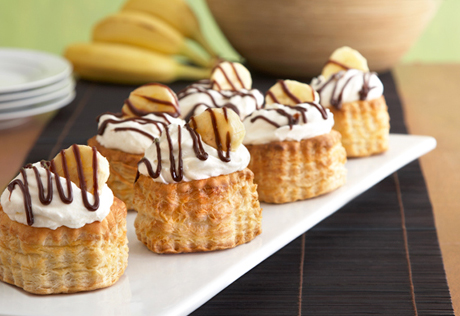 Ingredients & Directions
1 package (3.4 ounces) instant vanilla pudding and pie filling mixor instant banana cream pudding and pie filling mix
1 cup cold milk
6 tablespoons hot fudge topping, heated according to package directions
1 package (10 ounces) Pepperidge Farm® Puff Pastry Shells, prepared according to package directions
1 large banana, thinly sliced
1.5 cups sweetened whipped cream
Beat the pudding mix and milk in a large bowl with a whisk for 2 minutes.  Cover and refrigerate for 20 minutes.

Spoon 1 tablespoon fudge topping into each pastry shell.  Reserve 6 slices banana.  Divide the remaining banana among the pastry shells.  Spoon the pudding mixture into the pastry shells.  Top each with 1/4 cup whipped cream and 1 slice reserved banana.

Tips
The pastry shells can be prepared up to 4 hours ahead and kept at room temperature.
The pudding mixture can be prepared up to 48 hours ahead and kept covered and refrigerated.
For a finishing touch, you can drizzle additional warm hot fudge topping over the filled pastries or sprinkle with unsweetened cocoa powder.