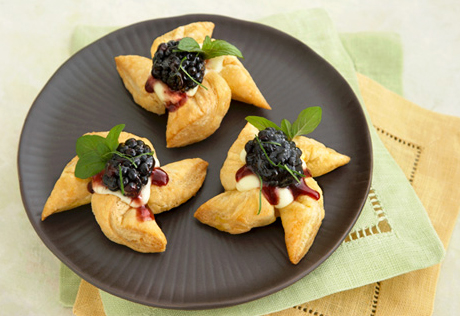 Ingredients & Directions
1/2 of a 17.3-ounce package Pepperidge Farm® Puff Pastry Sheets(1 sheet), thawed
1/4 cup seedless blackberry jamor preserves
8 ounces (2 containers, 4 ounces each ) vanilla pudding
1 pint fresh blackberries(about 25 berries)
2 tablespoons thinly sliced fresh mintleaves and 25 whole fresh mint leaves
Heat the oven to 400°F.  Unfold the pastry sheet on a lightly floured surface.  Cut the pastry sheet into 25 (about 2-inch) squares.  Using a sharp knife, cut diagonal lines from the corners of the pastry squares to within 3/4-inch of the center.  Fold every other corner to the center and press to seal.  Place the pastries onto 2 baking sheets.
Bake for 10 minutes or until the pastries are golden brown.  Using the back of a spoon, press down the centers of the hot pastries to make an indentation.
Heat the jam in a medium microwavable bowl on HIGH for 10 seconds or until it's warm.  Add the blackberries and toss to coat.  Spoon about 2 teaspoons pudding in the center of each pastry.  Top each with 1 blackberry and 1/4 teaspoon shredded mint.  Garnish each with 1 mint leaf.