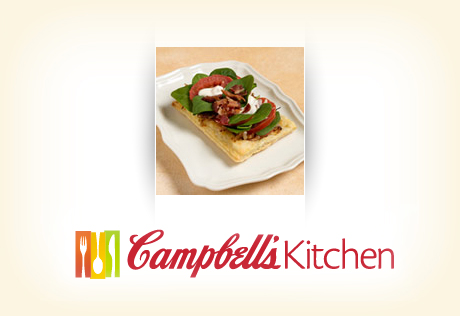 Ingredients & Directions
3/4 cup buttermilk ranch dressing
2 tablespoons crumbled chèvre or other goat cheese
1/2 of a 17.3-ounce package Pepperidge Farm® Frozen Sheets Pastry Dough(1 sheet), thawed
2 teaspoons butter
5 large shallot, thinly sliced
1/8 teaspoon ground black pepper
6 slices bacon
4 Roma or plum tomato, thinly sliced
1.25 cups mache, Bibb lettuce or spinachleaves, torn into small pieces
Heat the oven to 400°F.  Lightly grease a baking sheet.  Stir the dressing and cheese in a small bowl.
Unfold the pastry sheet on a lightly floured surface.  Cut the pastry sheet into 3 strips along the fold marks.  Cut each strip in half crosswise, making 6 pastry rectangles.  Place the pastry rectangles onto the baking sheet and prick with a fork.  Spread about 1 tablespoon dressing mixture onto each pastry rectangle.
Bake for 10 minutes or until the pastries are golden brown.
Heat the butter in a 10-inch skillet over medium heat.  Add the shallots and cook for 15 minutes or until golden brown and caramelized, stirring occasionally.  Remove the skillet from the heat.  Stir in the black pepper and half the bacon.
Divide the shallot mixture among the pastries.  Top with the tomatoes and mâche.  Drizzle with additional salad dressing and sprinkle with the remaining bacon.