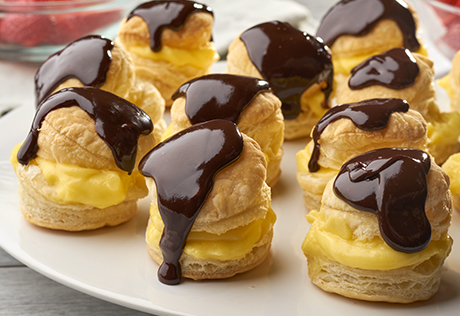 Ingredients & Directions
2 tablespoons all-purpose flour
1 package (17.3 ounces) Pepperidge Farm® Puff Pastry Sheets, thawed
1 package (3.4 ounces) instant vanilla pudding and pie filling mix
1.25 cups cold milk
2 ounces (about 1/3 cup) semi-sweet chocolate pieces
2 tablespoons heavy cream
3/4 teaspoon to 1/2 tablespoon water
Heat the oven to 375°F.  Line a baking sheet with parchment paper.
Sprinkle the flour on the work surface.  Unfold 1 pastry sheet on the work surface and roll into a 10-inch square.  Using a round cutter, cut 12 (2 1/2-inch) circles from the pastry sheet.  Place the pastry circles on the baking sheet. Brush the tops of the pastry circles with water.  Roll and cut the remaining pastry sheet into 12 circles and place them on top to make 12 double-layered circles.
Bake for 18 minutes or until the pastries are golden brown.  Let the pastries cool on the baking sheet on a wire rack for 10 minutes.  Split the pastries into 2 layers.
Beat the pudding mix and milk in a medium bowl with a whisk.  Cover and refrigerate.
Place the chocolate, heavy cream and water into a microwavable bowl.  Microwave on HIGH for 15 to 30 seconds.  Stir until the chocolate is melted and smooth.
Spoon about 2 tablespoons pudding onto each bottom pastry half.  Top with the top pastry halves.  Spread about 1/2 tablespoon chocolate mixture on each top pastry half.  Serve immediately or refrigerate until ready to serve.