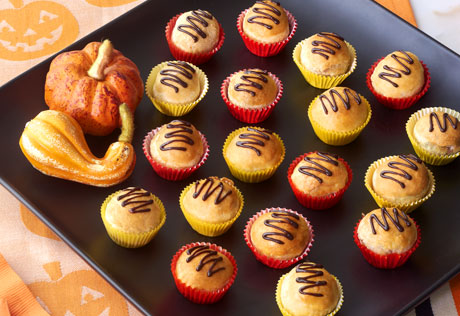 Ingredients & Directions
1 package (17.3 ounces) Pepperidge Farm® Puff Pastry Sheets(2 sheets), thawed
48 eachs miniature chocolate-covered caramel nougat candy bar
2 ounces light cocoa candy meltsor dark or white chocolate candy melts
Heat the oven to 400°F.  Place mini baking cups into 48 (1 1/2-inch) mini muffin-pan cups.
Unfold the pastry sheets on a lightly floured surface. Roll each pastry sheet into a 10-inch square. Cut each pastry square into 25 (2-inch) squares, making 50 pastry squares in all. You will only need 48 pastry squares for this recipe. Discard the remaining squares or reserve for another use.
Brush the edges of the 48 pastry squares with water. Place 1 candy bar, top-side down, in the center of each pastry square. Fold the corners up over the filling to the center and press to seal. Place 1 filled pastry, seam-side down, into each lined muffin-pan cup.
Bake for 10 minutes or until the puffs are golden brown. Let cool in the pan for 5 minutes. Remove the puffs from the pan and cool on wire racks.
Melt the candy melts according to the package directions. Drizzle over the puffs.
Tips
Make-Ahead: These puffs can be baked and stored in the freezer for up to 2 months.  Handle carefully because the frozen puffs can be fragile.
Ingredient Note: There are many classic candy bars available in miniature sizes- try your favorite or an assortment.  This recipe is also a great way to use up leftover Halloween candy!