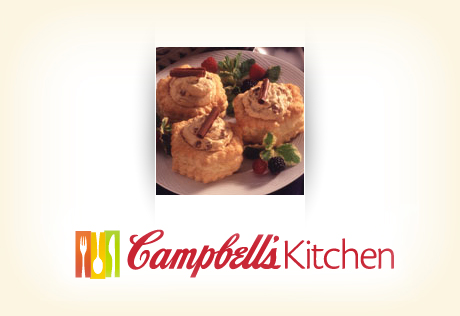 Ingredients & Directions
2 bars (about 1 ounce each ) dark chocolate
2 teaspoons instant espressopowder or granules
1 teaspoon water
1 cup heavy cream
1 tablespoon sugar
1/2 cup candy toffee bit
1 package (10 ounces) Pepperidge Farm® Puff Pastry Shells, prepared according to package directions
1 teaspoon ground cinnamon
Finely chop 1 chocolate bar.  Shave the remaining chocolate bar with a vegetable peeler to make chocolate curls.
Stir the espresso powder and water in a medium bowl until the powder is dissolved. Stir in the heavy cream and sugar. Beat with an electric mixer on high speed until stiff peaks form. Fold in the toffee bits and the chopped chocolate.
Spoon the mixture into the pastry shells. Sprinkle with the cinnamon and top with the chocolate curls. Cover and refrigerate for 1 hour or until the pastries are chilled.
Tips
Preparation Shortcut: You can substitute 2 cups thawed frozen whipped topping for the heavy cream and sugar.  Fold in the espresso mixture with the toffee and chocolate as directed above.
Recipe Note: Warming the chocolate bar in your hand first will make it easier to create the chocolate curls.