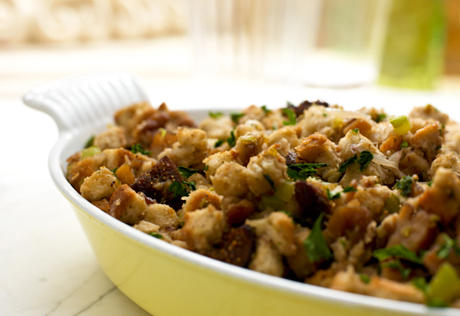 Ingredients & Directions
1/4 cup butter (1/2 stick)
1 large onion, diced (about 1 cup)
2 stalks celery, diced (about 1 cup)
1 jar (7.4 ounces) roasted peeled chestnuts, coarsely chopped (about 1 1/2 cups)
16 dried figs, stems removed, cut in quarters (about 1 cup)
2 tablespoons honey
2.5 cups Swanson® Chicken Broth or Swanson® Natural Goodness® Chicken Broth
Swanson® Certified Organic Chicken Broth
1/2 cup chopped fresh parsley
1 package (12 ounces) Pepperidge Farm® Herb Seasoned Cubed Stuffing
Heat the oven to 350°F.

Heat the butter in a 4-quart saucepan over medium heat.  Add the onion and celery and cook for 5 minutes or until tender-crisp.  Add the chestnuts and figs and cook for 2 minutes, stirring occasionally.
Stir in the honey and broth and heat to a boil.  Remove the saucepan from the heat.  Add the parsley and stuffing and mix lightly.  Season to taste.  Spoon the stuffing mixture into a greased 9x13x2-inch baking dish.
Bake for 30 minutes or until the stuffing mixture is hot.

Tips
Easy Substitution: You can substitute 1/2 cup chopped walnuts for the chestnuts.