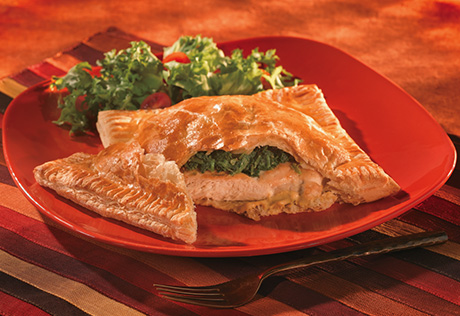 Ingredients & Directions
1 egg
1 tablespoon water
1/2 pound skinless, boneless chicken breast halves(about 2 breast halves)
0.333 cup all-purpose flour
3 tablespoons olive oil
1 package (about 10 ounces) frozen chopped spinach, thawed and well drained
1 teaspoon ground nutmeg
1 package (17.3 ounces) Pepperidge Farm® Puff Pastry Sheets, thawed
4 teaspoons Dijon-style mustard
Heat the oven to 400°F.  Beat the egg and water in a small bowl with a fork.
Pound the chicken to 1/4-inch thickness.  Cut each chicken breast in half.  Coat the chicken with the flour.
Heat the oil in a 12-inch skillet over medium-high heat. Add the chicken and cook until well browned on both sides. Remove the chicken to a plate.  Cover the plate and refrigerate for 15 minutes.
Stir the spinach and nutmeg in the skillet. Reduce the heat to medium.  Cook for 5 minutes or until the mixture is hot, stirring often.
Unfold 1 pastry sheet on a lightly floured surface. Roll the pastry sheet into a 14-inch square. Cut the pastry sheet into 4 (7-inch) squares.  Repeat with the remaining pastry sheet, making 8 squares in all.  Brush the edges of the pastry squares with the egg mixture.
Place 1 chicken piece in the center of each of 4 pastry squares. Spread each with 1 teaspoon mustard and top with about 1/4 cup spinach mixture. Top each with another pastry square. Press the edges to seal. Brush the pastries with the egg mixture. Place the pastries onto a baking sheet.
Bake for 25 minutes or until the pastries are golden brown.
Tips
Serving Suggestion: Serve with sliced cherry tomato halves tossed in balsamic vinaigrette and sprinkled with feta cheese. For dessert serve warm gingerbread squares topped with lemon sauce.