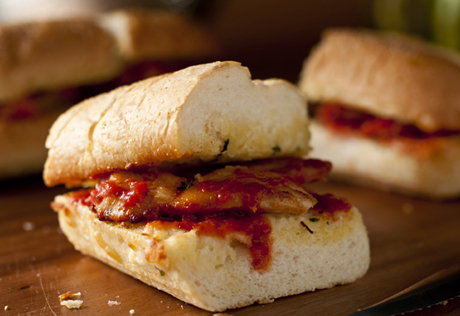 Ingredients & Directions
1 loaf (11.75 ounces) Pepperidge Farm® Mozzarella and Garlic Bread
1 tablespoon vegetable oil
1/2 pound skinless, boneless chicken breast halves, cut into strips
1/2 cup Prego® Traditional Italian Sauce
Heat the oven and bake the bread according to the package directions.  While the bread is baking, heat the oil in a 10-inch skillet over medium-high heat. Add the chicken and cook until well browned, stirring often.
Stir the sauce in the skillet and heat to a boil.  Reduce the heat to low.  Cook until the chicken is cooked through, stirring occasionally.
Spoon the chicken mixture onto the bottom bread half.  Top with the remaining bread half.  Cut the sandwich into quarters.
Tips
Serving Suggestion: Serve with additional sauce, warmed, for dipping.
Time Saving Tip: Substitute frozen fully-cooked chicken breast strips or even breaded chicken tenders for the uncooked chicken and skip browning the chicken in the first step.  Omit the oil and heat the chicken in the sauce.