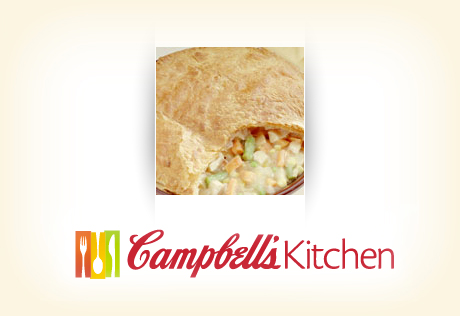 Ingredients & Directions
1/2 of a 17.3-ounce package Pepperidge Farm® Puff Pastry Sheets (1 sheet), thawed
1 tablespoon olive oil
1 large onion, coarsely chopped (about 1 cup)
1/8 teaspoon garlic powder or 1 small clove garlic, minced
1 can (10 1/2 ounces) Campbell's® Chicken Gravy
11 ounces frozen mixed vegetables (carrots, green beans, corn, peas), thawed (about 2 1/2 cups)
2 cups chopped cooked chicken
Set the pastry out to thaw.  Heat the oven to 400°F.
Heat the oil in a 10-inch skillet over medium-high heat.  Add the onion and garlic powder and cook until tender, stirring often.
Stir the gravy, vegetables and chicken in the skillet and cook until the mixture is hot.  Season to taste. Spoon the chicken mixture into a 9-inch deep-dish pie plate.
Unfold the pastry sheet and place it over the chicken mixture. Fold the edges of the pastry under itself to fit the pie plate (this doubled edge makes for a nicer-looking crust). Using a fork, crimp the edge of the pastry to the edge of the pie plate (or you can flute the pastry edge with your fingers).
Bake for 25 minutes or until the pastry is golden brown.