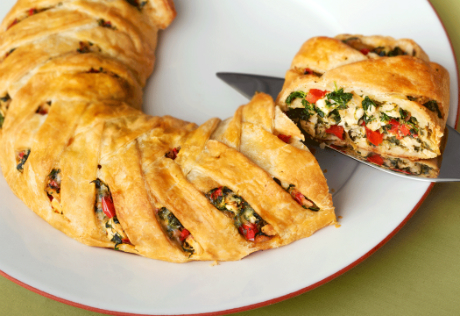 Ingredients & Directions
1 egg
1 tablespoon water
1 tablespoon vegetable oil
1 large red bell pepper, chopped (about 1 cup)
1 medium onion, chopped (about 1/2 cup)
1 package (10 ounces) frozen chopped frozen spinach, thawed and well drained
1 clove garlic, minced
1/2 teaspoon salt
1/4 teaspoon ground black pepper
2 cups chopped cooked chicken
1 cup shredded fontina cheese(about 4 ounces)
0.333 cup mayonnaise
2 tablespoons chopped fresh dill weedor basil leaves
2 tablespoons all-purpose flour
1/2 of a 17.3-ounce package Pepperidge Farm® Puff Pastry Sheets(1 sheet), thawed
Heat the oven to 375°F.  Beat the egg and water in a small bowl with a fork. 

Heat the oil in a 10-inch skillet over medium-high heat.  Add the red pepper, onion, spinach, garlic, salt and black pepper and cook for 5 minutes or until the vegetables are tender-crisp, stirring occasionally.  Remove the skillet from the heat and let cool for 30 minutes.

Stir the chicken, cheese, mayonnaise, dill and vegetable mixture in a large bowl.

Sprinkle the flour on the work surface.  Unfold the pastry sheet on the work surface.  Roll the pastry sheet into a 10x15-inch rectangle.  Line a baking sheet with parchment paper.  Place the pastry onto the baking sheet.

With a short side of the pastry facing you, spoon the chicken mixture down the center of the pastry, leaving 1 inch at the top and the bottom. Cut slits 1 inch apart down the sides of the pastry to within 1/2 inch of the chicken mixture.  Fold the top 1 inch of pastry down over the chicken mixture.  Fold the pastry strips over the chicken mixture, alternating sides, to cover the chicken mixture.  Fold the bottom 1 inch of pastry up over the chicken mixture.  Carefully bend the pastry into a horseshoe shape.  Brush the pastry with the egg mixture.
Bake for 35 minutes or until the pastry is golden brown.  Let the pastry cool on the baking sheet on a wire rack for 10 minutes.  Cut the pastry into 8 slices.

Tips
Recipe Note: Parchment paper keeps the pastry from sticking to the baking sheet and also makes for easier cleanup. If you don't have parchment paper, you can spray the baking sheet with cooking spray instead. However, cooking spray may cause the bottoms of the pastries to brown more quickly, so begin checking for doneness 5 minutes early.