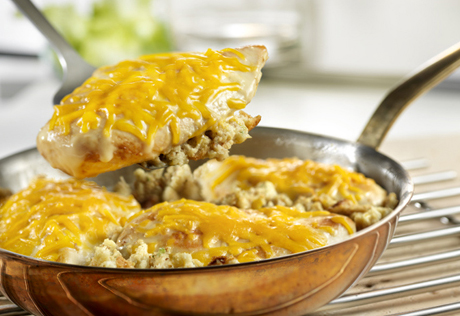 Ingredients & Directions
3 tablespoons butter
1.25 pounds skinless, boneless chicken breast halves
1 cup Swanson® Chicken Broth
6 ounces (about 3 cups) uncooked Pepperidge Farm® Herb Seasoned Stuffing
1 can (10 1/2 ounces) Campbell's® Condensed Cream of Chicken Soup or (10 1/2 ounces) Campbell's® Condensed 98% Fat Free Cream of Chicken Soup
1/2 cup milk
1/2 cup shredded Cheddar cheese
Season the chicken as desired (we used freshly ground black pepper).  Heat 1 tablespoon butter in a 12-inch nonstick skillet over medium-high heat. Add the chicken and cook for 15 minutes or until well browned on both sides and cooked through. Remove the chicken from the skillet.
Heat the remaining butter and the broth in the skillet to a boil.  Add the stuffing and mix lightly.
Reduce the heat to medium-low.  Place the chicken on the stuffing. Stir the soup and milk in a small bowl. Pour the soup mixture over the chicken. Top with the cheese. Cover and cook until the soup mixture is hot and the cheese is melted.
Tips
Substitute Campbell's® Condensed Cream of Celery or Cream of Mushroom Soup for the Cream of Chicken Soup.