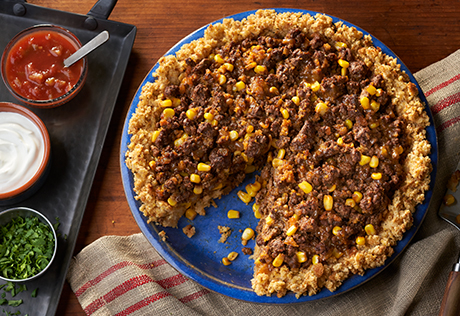 Ingredients & Directions
4 cups unprepared Pepperidge Farm® Cornbread Stuffing
1.75 cups Swanson® Natural Goodness® Chicken Broth or Swanson® Chicken Broth
1 pound ground beef
1 medium onion, coarsely chopped (about 1/2 cup)
2 tablespoons chili powder
2 teaspoons ground cumin
8 ounces frozen whole kernel corn (about 2 cups)
1 cup shredded Cheddar cheese (about 4 ounces)
Heat the oven to 350°F. Place the stuffing and broth into a medium bowl and mix lightly. Let stand for 5 minutes or until the broth is absorbed. Reserve 1/2 cup stuffing mixture. Press the remaining stuffing mixture into the bottom and up the sides of a greased 9-inch pie plate.
Bake for 15 minutes or until the crust is golden.
While the crust is baking, cook the beef, onion, chili powder and cumin in a 12-inch skillet over medium-high heat until the beef is well browned, stirring often to separate meat. Pour off any fat. Stir the corn, cheese and reserved stuffing mixture in the skillet. Spoon the beef mixture into the crust.
Bake for 10 minutes or until the beef mixture is hot. Serve with sour cream, if desired.
Tips
Serving Suggestion: Top with Pace® Salsa, diced green onion and sour cream, if desired.