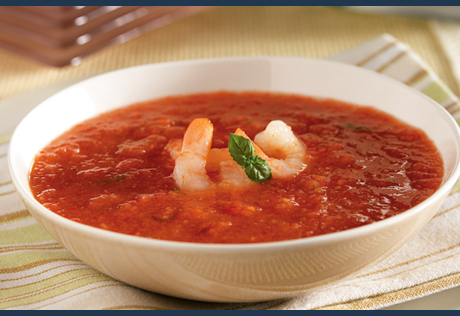 Ingredients & Directions
2 cups Swanson® Vegetable Broth
3/4 cup V8® 100% Vegetable Juice
1 slice Pepperidge Farm® Farmhouse™ Hearty White Bread, torn into pieces
4 cups grape tomatoes or cherry tomatoes, cut into quarters
1 small cucumber, peeled, seeded and diced (about 1 cup)
1 cup diced cantaloupe or Cavaillon melon
1 tablespoon balsamic vinegar
3 fresh basil leaves, cut into very thin strips
1/2 pound cooked small shrimp
6 additional fresh basil leaves (optional)
Place the broth, juice and bread in a blender. Cover and blend until the mixture forms a paste. Pour into a large bowl.
Stir the tomatoes, cucumber, cantaloupe, vinegar and basil in the bowl and season to taste.
Place 1/2 of the broth mixture into a blender. Cover and pulse about 5 times for a partially blended mixture. Pour the mixture into a medium bowl. Repeat the blending process with the remaining broth mixture. Stir into the puréed mixture.
Cover and refrigerate for 3 hours or until the soup is cold.
Ladle 1 cup of the gazpacho into each of 6 chilled serving bowls. Top each serving of soup with about 2 shrimp and additional basil for garnish, if desired.
Tips
This soup may also be served hot. Pour all of the puréed mixture into a 2-quart saucepan. Cook over medium heat until the mixture is hot and bubbling.
Dietary Exchange: 1/2 Starch, 1 Vegetable, 1 Lean Meat