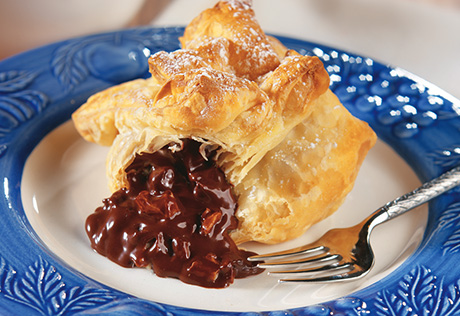 Ingredients & Directions
1 package (6 ounces) semi-sweet chocolate pieces(about 1 cup)
1/4 cup chopped walnuts
1/2 of a 17.3 ounce package Pepperidge Farm® Puff Pastry Sheets(1 sheet), thawed
3 tablespoons confectioners' sugar
Heat the oven to 400°F. Stir the chocolate pieces and walnuts in a small bowl.
Unfold the pastry sheet on a lightly floured surface. Roll the pastry into a 12-inch square. Cut the pastry into 9 (4-inch) squares. Place about 2 tablespoons chocolate mixture in the center of each square. Brush the edges of the squares with water. Bring the corners of each square to the center on top of the filling. Twist tightly to seal, fanning out the corners. Place the pastries 2 inches apart on a baking sheet.
Bake the pastries for 15 minutes or until they're golden brown. Remove the pastries from the baking sheet and cool on a wire rack for 10 minutes. Sprinkle the pastries with confectioners' sugar.
Tips
Alternate Preparation: For large bundles, cut the pastry into 4 (6-inch) squares and place about 1/3 cup chocolate mixture in center of each square. Proceed as directed. Makes 4 servings.