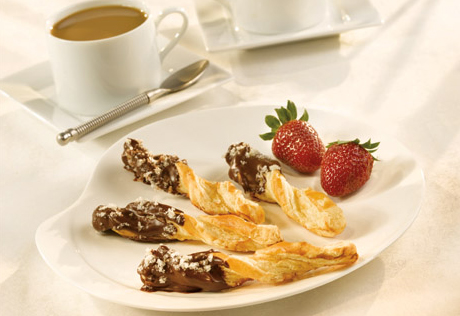 Ingredients & Directions
1 egg
1 tablespoon water
0.333 cup sugar
1 jar (2 ounces) crystallized ginger
1/2 of a 17.3-ounce package Pepperidge Farm® Puff Pastry Sheets(1 sheet), thawed
1 package (8 ounces) semi-sweet chocolate, chopped
Heat the oven to 350°F.  Line 2 baking sheets with parchment paper.  Beat the egg and water in a small bowl with a fork.
Place the sugar and ginger into a food processor.  Cover and process until the ginger is finely chopped.  Reserve 2 tablespoons sugar mixture.
Sprinkle half the remaining sugar mixture on the work surface. Unfold the pastry sheet on the sugar mixture.  Sprinkle with the remaining sugar mixture.  Roll the pastry sheet into a 14-inch square.  Fold the pastry sheet in half.  Cut the pastry crosswise into 24 (about 1/2-inch wide) strips.  Twist the strips and place on the baking sheets, pressing down the ends.  Brush the twists with the egg mixture.  Refrigerate for 30 minutes.
Bake for 20 minutes or until the pastries are golden brown. Remove the pastries from the baking sheets and let cool for 10 minutes on wire racks.
Place the chocolate into a medium microwavable bowl. Microwave on MEDIUM for 30 seconds.  Stir.  Repeat until the chocolate is melted and smooth.
Line a baking sheet with wax paper.  Dip half of each pastry in the chocolate and place on the baking sheet.  Sprinkle with the reserved sugar mixture. Refrigerate for 10 minutes until the chocolate is firm.

Tips
Ingredient Note: Don't worry if you unwrap your chocolate and the surface has whitish streaks.  This is called "bloom" and occurs when chocolate isn't stored at the optimal temperature.  Bloom is harmless and the chocolate is fine to eat or to use in recipes.
Recipe Note: Parchment paper keeps the pastry from sticking to the baking sheet and also makes for easier cleanup. If you don't have parchment paper, you can spray the baking sheet with cooking spray instead. However, cooking spray may cause the bottoms of the pastries to brown more quickly, so begin checking for doneness 5 minutes early.