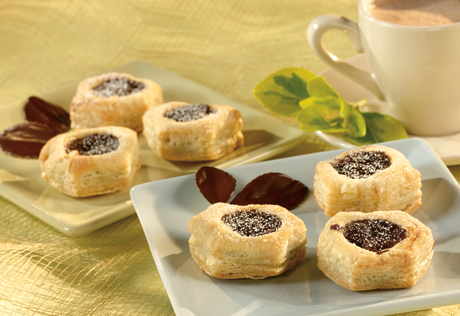 Ingredients & Directions
3/4 cup heavy cream
2 tablespoons confectioners' sugar
1/2 teaspoon vanilla extract
2 ounces semi-sweet chocolate, melted
1 package (9.5 ounces) Pepperidge Farm® Puff Pastry Cups, prepared according to package directions
1 ounce bittersweet chocolate, grated
Beat the heavy cream with the sugar and vanilla in a medium bowl using an electric mixer on high speed until stiff peaks form. Fold in the melted chocolate.
Spoon or pipe approximately 2 teaspoons chocolate mixture into each pastry cup. Sprinkle with the grated chocolate.
Tips
For Dark Chocolate Ganache Cups, reduce the heavy cream to 1/4 cup and increase the bittersweet or dark chocolate to 4 ounces. Omit the confectioners' sugar and semi-sweet chocolate.  Stir the chocolate and heavy cream in a medium microwavable bowl.  Microwave on HIGH for 45 seconds or until the chocolate is melted.  Add the vanilla extract and stir until the mixture is smooth.  Spoon the mixture into the pastry cups and let stand for 15 minutes before serving.