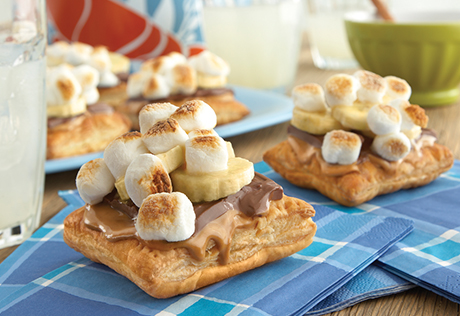 Ingredients & Directions
3 bars (1.5 ounces each ) milk chocolatecandy
2 tablespoons all-purpose flour
1/2 of a 17.3-ounce package Pepperidge Farm® Puff Pastry Sheets(1 sheet), thawed
6 tablespoons creamy peanut butter
2 large banana, cut into 36 (1/4-inch thick) slices
81 eachs miniature marshmallows(about 3/4 cup packed)
Heat the oven to 400°F.  Break each candy bar crosswise into 4 pieces along the cut lines, making 12 pieces in all.

Sprinkle the flour on the work surface.  Unfold the pastry sheet on the work surface. Prick the pastry sheet thoroughly with a fork.  Cut into 9 (about 3-inch) squares.  Place the pastries onto a baking sheet.

Bake for 15 minutes or until the pastries are golden brown.  Remove the pastries from the baking sheet and let cool on a wire rack for 10 minutes.
Return the pastries to the baking sheet.  Spread 2 teaspoons peanut butter on each pastry.  Top each with 1 piece chocolate, 4 slices banana and 9 marshmallows.  Reserve the remaining chocolate for another use.

Heat the broiler.  Broil 4 inches from the heat for 2 minutes or until the marshmallows are golden.  Let the pastries cool on the baking sheets for 5 minutes.

Tips
You can substitute 6 tablespoons semi-sweet chocolate pieces for the chocolate bars.  Use 2 teaspoons for each pastry.
You can use 14 large marshmallows, cut in half, instead of the miniature marshmallows.  Use 3 marshmallow halves, cut-side down, for each pastry.
You can make 18 S'more Puffs by using the whole package of pastry sheets and doubling the remaining ingredients.