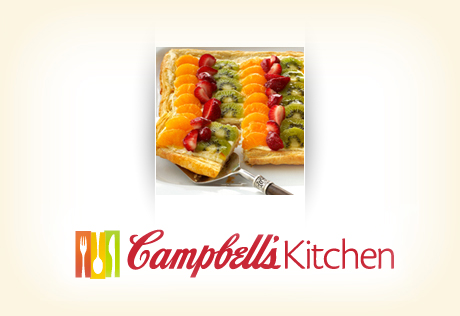 Ingredients & Directions
1 orange
2 tablespoons all-purpose flour
1/2 of a 17.3-ounce package Pepperidge Farm® Puff Pastry Sheets (1 sheet), thawed
1 package (8 ounces) cream cheese, softened
1 tablespoon sugar
2 cups quartered strawberries
1 can (15 ounces) mandarin oranges in light syrup, drained
2 kiwi, peeled, cut in half and sliced
1/2 cup apricot preserves, warmed
Heat the oven to 400°F.  Grate 2 teaspoons zest and squeeze 2 tablespoons juice from the orange.
Sprinkle the flour on the work surface.  Unfold the pastry sheet on the work surface.  Roll the pastry sheet into a 14x10-inch rectangle and place onto a baking sheet.  Brush the edge of the pastry with water.  Fold over the edges 1/2 inch on all sides, pressing firmly to form a rim.  Prick the center of the pastry thoroughly with a fork (this is called docking the pastry- it lets the steam escape during baking so the crust doesn't bubble up).
Bake for 15 minutes or until the pastry is golden brown.  Let the pastry cool on the baking sheet for 10 minutes (you'll want the pastry cooled so the cream cheese mixture spread on in the next step won't become runny).
Stir the cream cheese, sugar, orange juice and orange zest in a medium bowl until the mixture is smooth.  Spread the cream cheese mixture on the pastry.  Arrange the strawberries, mandarin oranges and kiwis on the cream cheese mixture.  Brush the fruit with the preserves.
Tips
Make-Ahead: This tart can be served immediately or covered and refrigerated for up to 4 hours.
For a strawberry-topped tart, omit the mandarin oranges and kiwi and slice the strawberries instead of cutting them in quarters.