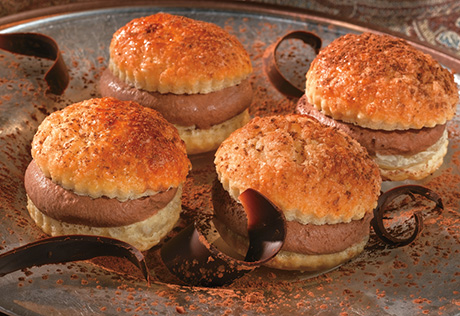 Ingredients & Directions
1/2 of a 17.3-ounce package Pepperidge Farm® Puff Pastry Sheets(1 sheet), thawed
3 tablespoons sugar
1 cup heavy cream
0.333 cup unsweetened cocoa powder
Heat the oven to 400°F.
Unfold the pastry on a lightly floured surface. Roll the pastry into a 14 x 9-inch rectangle. Cut the pastry into 30 rounds, using a 1 3/4-inch cookie or biscuit cutter and place the pastry rounds 2 inches apart on a baking sheet. Prick the pastry rounds with a fork. Brush them with water and sprinkle with 1 1/2 teaspoons sugar.
Bake the pastry rounds for 10 minutes or until they're golden brown. Remove the pastry rounds from the baking sheet and cool on a wire rack for 10 minutes.
Beat the cream, cocoa powder and remaining sugar in a medium bowl with an electric mixer set on high speed until stiff peaks form. Split the pastries into 2 layers. Spread about 2 teaspoons chocolate mixture on 30 bottom layers. Top with the top layers. Sprinkle additional cocoa powder over the pastries, if desired.