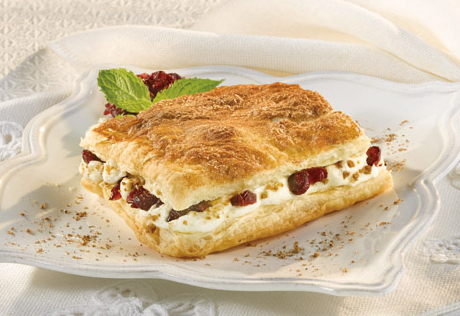 Ingredients & Directions
1/2 of a 17.3-ounce package Pepperidge Farm® Puff Pastry Sheets(1 sheet), thawed
1 tablespoon sugar
1/2 teaspoon ground cinnamon
1 egg
1 tablespoon water
1 cup heavy cream
8 ounces (1 container) mascarponecheese, softened
1 package (8 ounces) cream cheese, softened
1/2 cup confectioners' sugar
1 teaspoon vanilla extract
1/2 teaspoon rum extract
1/4 teaspoon freshly grated nutmeg
1 cup sweetened dried cranberries
6 gingersnap cookie, crushed (about 1/4 cup)
Heat the oven to 375°F.  Beat the egg and water in a small bowl with a fork or whisk.
Unfold the pastry sheet on a lightly floured surface.  Stir the granulated sugar and cinnamon in a small bowl.  Sprinkle the sugar mixture over the pastry sheet.  Roll the pastry sheet into an 11-inch square.  Place the pastry onto a baking sheet. Brush with the egg mixture.
Bake for 15 minutes or until the pastry is golden brown.  Remove the pastry from the baking sheet and let cool on a wire rack for 10 minutes.  Split the pastry into 2 layers.
Beat the heavy cream in a medium bowl with an electric mixer on high speed until stiff peaks form.
Beat the mascarpone cheese, cream cheese, confectioners' sugar, vanilla extract, rum extract and nutmeg in a medium bowl with an electric mixer on medium-high speed until the mixture is smooth.   Fold the whipped cream into the cheese mixture.
Spread the cheese mixture on the bottom pastry layer. Sprinkle with the cranberries and crushed cookies.  Top with the top pastry layer.