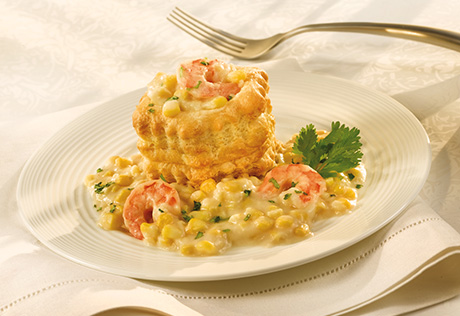 Ingredients & Directions
4 tablespoons butter
0.333 cup minced shallot
1/4 cup all-purpose flour
1 cup Swanson® Chicken Broth or Swanson® Chicken Stock
3/4 pound fresh or thawed frozen small shrimp, peeled and deveined
2 cups frozen whole kernel corn, thawed
1/2 cup heavy cream
1.5 tablespoons lemon juice
2 dashs hot pepper sauce
1 package (10 ounces) Pepperidge Farm® Puff Pastry Shells, prepared according to package directions
1 tablespoon Chopped fresh cilantroleaves or Parsley
Heat the butter in a 10-inch skillet over medium heat. Add the shallots and cook and stir for 3 minutes. Add the flour and cook and stir for 2 minutes. Gradually stir in the broth. Cook and stir until the mixture boils and thickens.
Stir the shrimp and corn in the skillet. Reduce the heat to low.  Stir in the heavy cream, lemon juice and hot pepper sauce and cook until the shrimp are cooked through. Spoon the shrimp mixture into the pastry shells.  Sprinkle with the cilantro.
Tips
Flavor Variation: For Creamy Shrimp, Lobster & Corn Stew in Shells, reduce the amount of shrimp to 1/2 pound and add 1/4 pound diced, cooked lobster meat with the corn.