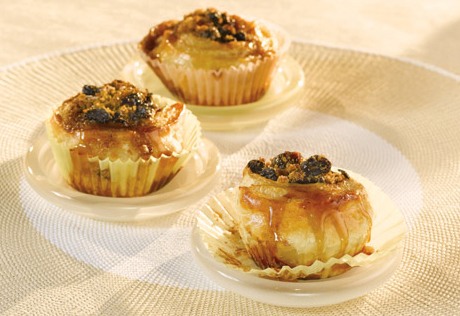 Ingredients & Directions
1 package (17.3 ounces) Pepperidge Farm® Puff Pastry Sheets, thawed
1 egg
1 tablespoon water
1.5 cups raisins
1 cup packed brown sugar
1 teaspoon ground cinnamon
Heat the oven to 375°F.  Beat the egg and water in a small bowl with a fork or whisk.  Place paper liners into 12 (2 1/2-inch) muffin-pan cups.
Place the raisins into a small bowl and add hot water to cover.  Let stand for 5 minutes.  Drain the raisins well in a colander.  Add the brown sugar and cinnamon and toss to coat.
Unfold 1 pastry sheet on a lightly floured surface.  Brush the pastry with the egg mixture.  With the short side facing you, spoon half the raisin mixture on the bottom half of the pastry to within 1 inch of the edge.  Roll up like a jelly roll.  Press the seam and tuck the ends under to seal.  Brush with the egg mixture.  Repeat with the remaining pastry sheet.
Cut each roll into 6 (2-inch) slices.  Place the slices, cut-side down, into the muffin-pan cups.  Brush the tops with the egg mixture.

Bake for 25 minutes or until the pastries are golden brown.  Remove the pastries from the muffin-pan cups and let cool on a wire rack for 10 minutes.