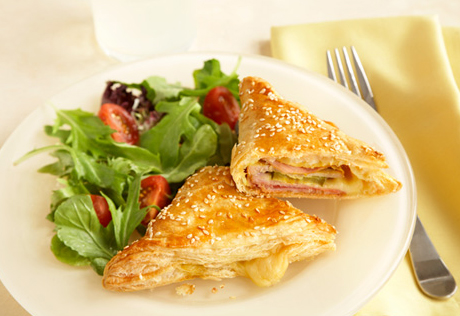 Ingredients & Directions
1 teaspoon honey
1/2 teaspoon water
1/2 of a 17.3-ounce package Pepperidge Farm® Puff Pastry Sheets(1 sheet), thawed
4 teaspoons yellow mustard
8 thin slices deli baked deli ham
8 slices deli Swiss cheeseor provolone cheese
4 kosher kosher dill picklepickle sandwich slices
8 thin sliced deli roast pork
2 teaspoons sesame seeds
Heat the oven to 400°F.  Stir the honey and water in a small bowl. 

Unfold the pastry sheet on a lightly floured surface.  Roll the pastry sheet into a 12-inch square.  Cut into 4 (6-inch) squares.

Spread 1 teaspoon mustard on each pastry square to within 1/2 inch of the edge.  Layer each with 2 ham slices, 2 cheese slices, 1 pickle slice and 2 pork slices.  Brush the edges of the pastry squares with water.  Fold the pastry over the filling to form a triangle and crimp with a fork to seal.  Brush the filled pastries with the honey mixture.  Sprinkle with the sesame seeds.  Place the pastries onto a baking sheet.

Bake for 20 minutes or until the pastries are golden brown.  Let the pastries cool on the baking sheet on a wire rack for 5 minutes.

Tips
Serving Suggestion: Serve with a green salad with sliced tomatoes, onions, radishes and a lemon vinaigrette.