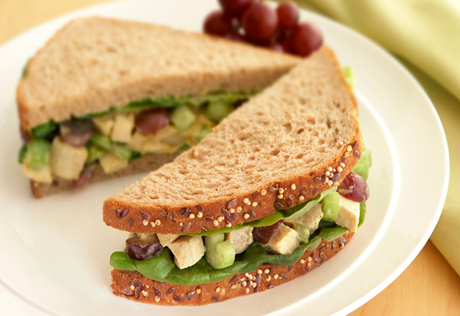 Ingredients & Directions
1/4 cup fat free mayonnaise
1/2 teaspoon curry powder
1 teaspoon reduced sodium soy sauce
2 cups diced boneless, skinless chicken breasts, cookedbreast
1 stalk celery, diced (about 1/2 cup)
1/2 cup red seedless grapescut in half
8 large romaine lettuceor Bibb lettuce leaves
8 slices Pepperidge Farm® Whole Grain 15 Grain Bread
Stir the mayonnaise, curry powder and soy sauce in a medium bowl until the mixture is smooth.  Add the chicken, celery and grapes and stir to coat.

Top 4 bread slices with 1 lettuce leaf each.  Divide the chicken mixture among the lettuce-topped bread slices.  Top with the remaining lettuce leaves and bread slices.

Tips
Recipe Note: The flavor of the chicken mixture is delicious chilled.  Just prepare the chicken mixture as directed above, cover and refrigerate for up to 1 hour, then assemble the sandwiches.
Easy Substitution: You can substitute 3 cans (4.5 ounces each) Swanson® Premium Chunky White Chicken Breast in Water, drained, for the diced cooked chicken.