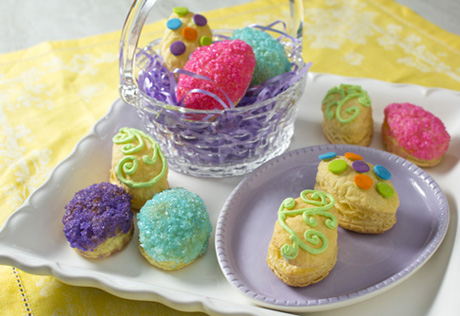 Ingredients & Directions
2 tablespoons all-purpose flour
1/2 of a 17.3-ounce package Pepperidge Farm® Puff Pastry Sheets (1 sheet), thawed
1 cup marshmallow crème
1/2 cup whipped topping
Heat the oven to 400°F.  Line a baking sheet with parchment paper.
Sprinkle the work surface with the flour.  Unfold the pastry sheet on the work surface. Using an egg-shaped cookie cutter, cut out 12 (about 2 1/2-inch) pastries.  Place the pastries onto the baking sheet.
Bake for 20 minutes or until the pastries are golden brown.  Let the pastries cool on the baking sheet on a wire rack for 10 minutes.
Stir the marshmallow creme and whipped topping in a medium bowl.  Spoon the marshmallow mixture into a pastry bag with a small plain tip.  For each pastry, insert the end of the pastry tip into one end of the pastry.  Slowly pipe the marshmallow mixture into the pastry to fill.  Decorate the filled pastries with frosting or drizzle with melted chocolate or confectioners' sugar glaze, if desired.
Tips
To Decorate with Sanding Sugar: Brush the tops of the unbaked pastries with a mixture of 1 egg and 1 tablespoon water (beat in a small bowl with a fork), then sprinkle with the sanding sugar before baking.