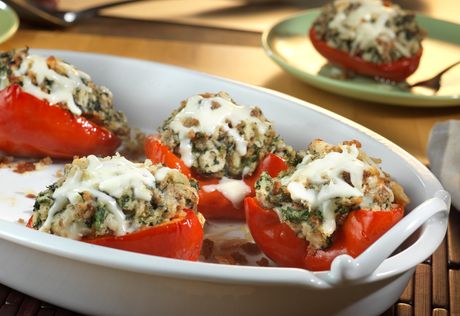 Ingredients & Directions
4 cups Pepperidge Farm® Herb Seasoned Stuffing
1 tablespoon butter, melted
3 medium red bell pepper, cut in half lengthwise and seeded
1 can (10 1/2 ounces) Campbell's® Condensed Cream of Mushroom Soup or (10 1/2 ounces) Campbell's® Condensed 98% Fat Free Cream of Mushroom Soup
1/2 cup sour cream
1 teaspoon onion powder
1 package (about 10 ounces) frozen chopped spinach, thawed and drained
1/4 cup grated Parmesan cheese
6 tablespoons shredded mozzarella cheese
Heat the oven to 350°F.  Stir 1/2 cup stuffing and butter in a small bowl and reserve.
Spray an 11x8x2-inch baking dish with vegetable cooking spray.  Arrange the pepper halves, cut-side up, in the baking dish. 

Stir the soup, sour cream, onion powder, spinach and Parmesan cheese in a large bowl. Add the remaining stuffing and mix lightly. Spoon about 1/2 cup spinach mixture into each pepper half. Sprinkle with the reserved stuffing mixture.
Bake at 350°F. for 30 minutes or until the spinach mixture is hot and bubbling.  Top each with 1 tablespoon mozzarella cheese.
Bake for 5 minutes or until the cheese is melted.

Tips
Ingredient Note: To thaw the spinach, microwave on HIGH for 3 minutes, breaking apart with a fork halfway through heating.