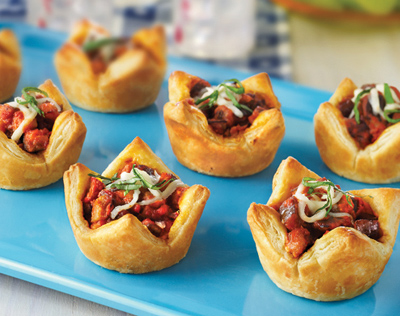 Ingredients & Directions
1 tablespoon olive oil
1 medium eggplant, diced (about 3 1/2 cups)
1 cup Prego® Traditional Italian Sauce
0.333 cup grated Parmesan cheese
2 tablespoons all-purpose flour
1/2 of a 17.3-ounce package Pepperidge Farm® Puff Pastry Sheets(1 sheet), thawed
1/4 cup shredded mozzarella cheese
2 tablespoons shredded fresh basil leaves
Heat the oven to 400°F.

Heat the oil in a 10-inch skillet over medium-high heat.  Add the eggplant and cook for 5 minutes or until tender, stirring occasionally.  Stir in the sauce and cook until the mixture is hot and bubbling.  Remove the skillet from the heat and stir in the Parmesan cheese.

Sprinkle the flour on the work surface.  Unfold the pastry sheet on the work surface.  Roll the pastry sheet into an 11-inch square.  Cut the pastry into 9 (3 1/2-inch) squares.  Press the pastry squares into 9 muffin-pan cups.  Spoon about 1/4 cup eggplant mixture into each tartlet shell.

Bake for 20 minutes or until the pastries are golden brown.  Remove the pan from the oven.  Sprinkle about 1 teaspoon mozzarella cheese and about 1/2 teaspoon basil on each pastry.