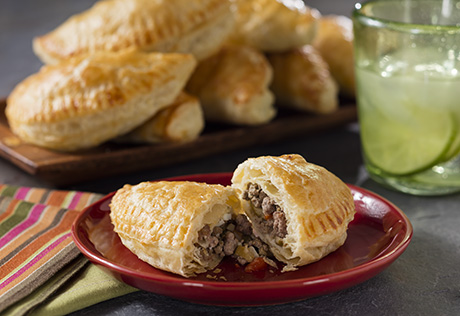 Ingredients & Directions
1 tablespoon vegetable oil
1 small onion, chopped (about 1/4 cup)
1/2 pound ground beef
1/4 cup chopped pimiento-stuffed olives
1/4 cup golden raisins
1 hard cooked egg, peeled and chopped
1 clove garlic, minced
1/2 teaspoon salt
1 uncooked egg
2 tablespoons all-purpose flour
1 package (17.3 ounces) Pepperidge Farm® Puff Pastry Sheets, thawed
Heat the oil in a 10-inch skillet over medium-high heat.  Add the onion and cook for 2 minutes, stirring occasionally.  Add the beef and cook until well browned, stirring often to separate meat.  Pour off any fat.  Stir in the olives, raisins, hard-cooked egg and garlic.  Season with the salt.  Remove the skillet from the heat and let the beef mixture cool.

Heat the oven to 350°F.  Line a baking sheet with parchment paper.  Beat the uncooked egg in a small bowl with a fork. 

Sprinkle the flour on the work surface.  Unfold 1 pastry sheet on the work surface.  Roll the pastry sheet into a 10-inch square.  Using a round cutter, cut the pastry  into 4 (5-inch) circles.  Repeat with the remaining pastry sheet.

Spoon about 2 tablespoons beef mixture in the center of each pastry circle.  Fold the pastry over the filling and press the edges to seal.  Crimp the edges with a fork.  Using a sharp knife, cut small slits in the tops of the pastries.  Place the pastries onto the baking sheet.  Brush the pastries with the uncooked egg.

Bake for 15 minutes or until the pastries are golden brown.  Let the pastries cool on the baking sheet on a wire rack for 10 minutes.