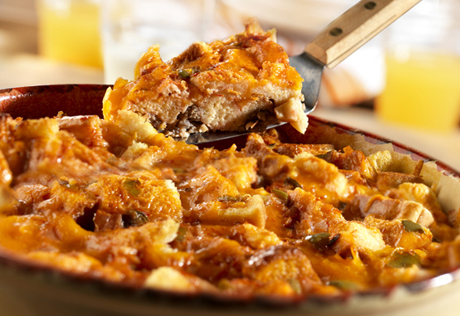 Ingredients & Directions
1/2 pound bulk pork sausage
12 slices Pepperidge Farm® White Calcium Enriched Sliced Sandwich Bread, cut into cubes (about 6 cups)
1.5 cups shredded Cheddar cheese(about 6 ounces)
1 cup Pace® Picante Sauce
4 egg
3/4 cup milk
Cook the sausage in a 10-inch skillet over medium-high heat until well browned, stirring often to separate meat. Pour off any fat.
Spoon the sausage into an 11 x 7 x 2-inch baking dish. Top with the bread cubes and cheese. Beat the picante sauce, eggs and milk in a medium bowl with a fork or whisk. Pour the picante sauce mixture over the bread mixture. Stir and press the bread mixture into the picante sauce mixture to coat.  Cover and refrigerate for 2 hours or overnight.
Heat the oven to 350°F.  Uncover the baking dish.
Bake for 45 minutes or until a knife inserted in the center comes out clean.
Tips
Make-Ahead: Prepare this dish the night before and pop it into the oven in the morning. It's great for when you have overnight guests. Add a simple side of sliced melon and breakfast is ready!