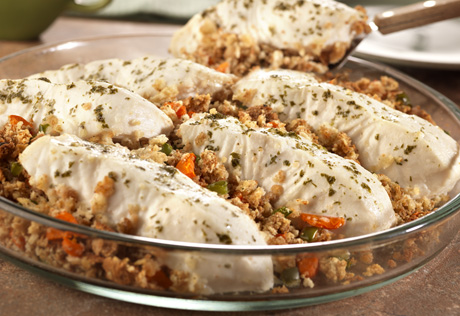 Ingredients & Directions
1 cup water
1/4 cup (1/2 stick) butter
2  medium carrot, sliced (about 1 cup)
1  small green pepper, chopped (about 1/2 cup)
4 cups Pepperidge Farm® Herb Seasoned Stuffing
1.5  pounds fresh or thawed frozen firm white fish fillet (cod, haddock, or halibut) (6 fillets)
1 tablespoon lemon juice
1 tablespoon chopped fresh fresh parsley or 1 teaspoon dried parsley flakes
Heat the water, 2 tablespoons butter, carrots and pepper in a 3-quart saucepan over medium-high heat to a boil.  Remove the saucepan from the heat.  Add the stuffing and mix lightly.
Spoon the stuffing across the center of a 3-quart shallow baking dish.  Arrange the fish on each side of the stuffing.
Heat the remaining butter in an 8-inch skillet over medium heat until it's melted.  Stir in the lemon juice and parsley.  Spoon the butter mixture over the fish.
Bake at 400°F. for 15 minutes or until the fish flakes easily when tested with a fork.
Tips
*For moister stuffing increase the water to 1 1/2 cups.