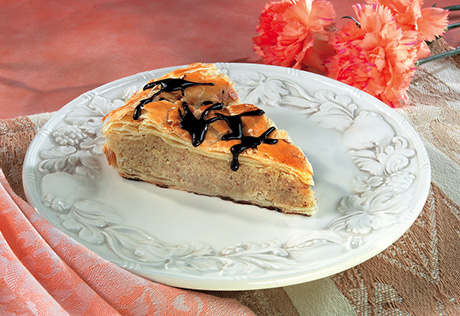 Ingredients & Directions
3 egg
1 tablespoon water
3/4 cup whole unblanched almonds
1/2 cup sugar
6 tablespoons butter, softened
1/4 cup all-purpose flour
2 tablespoons rum
1 package (17.3 ounces) Pepperidge Farm® Puff Pastry Sheets(2 sheets), thawed according to package directions
3/4 cup chocolate sauce
Heat the oven to 375°F. Beat 1 egg and water in a small bowl with a fork or whisk.
Place the almonds and sugar in a food processor. Cover and pulse on and off until they're finely ground, about 1 minute. Add 1 egg and continue to pulse until a smooth paste forms. Add the butter, a little at a time, pulsing after each addition. Scrape down the sides of the bowl. Add the remaining egg and pulse until smooth. Add the flour and rum and pulse just until blended.
Unfold 1 pastry sheet. Place the pastry in a 9-inch tart pan. Top with the almond mixture and spread evenly. Unfold the remaining pastry sheet and place it on top. Trim the pastry to fit the pan. Crimp the edges of the pastry and cut slits in the top. Brush the pastry with the egg mixture.
Bake for 45 minutes or until the pastry is golden brown. Cool the pastry in the pan on a wire rack. Serve with chocolate sauce, if desired.