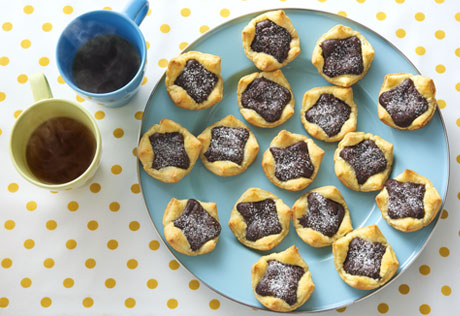 Ingredients & Directions
4 ounces unsweetened baking chocolate
4 tablespoons butter(1/2 stick)
3/4 cup sugar
2 egg
1 teaspoon vanilla extract
2 tablespoons all-purpose flour
1/2 of a 17.3-ounce package Pepperidge Farm® Puff Pastry Sheets(1 sheet), thawed
2 tablespoons confectioners' sugar(optional)
Heat the oven to 400°F.
Place the chocolate and butter in a large microwave-safe bowl. Microwave on HIGH for 1 minute or until the butter is melted. Stir until the mixture is smooth.
Stir the sugar into the chocolate mixture. Stir in the eggs and vanilla until the mixture is well blended. Stir in the flour until the mixture is smooth.
Unfold the pastry sheet on a lightly floured surface. Roll the pastry sheet into a 15 x12-inch rectangle. Cut the pastry into 20 (3-inch) squares. Press the squares into 20 (3-inch) muffin-pan cups. Spoon about 1 tablespoon chocolate mixture into each square.
Bake the pastries for 18 minutes or they're until golden brown. Remove the pastries from the muffin-pans and cool on wire racks for 10 minutes. Sprinkle with confectioners' sugar, if desired.