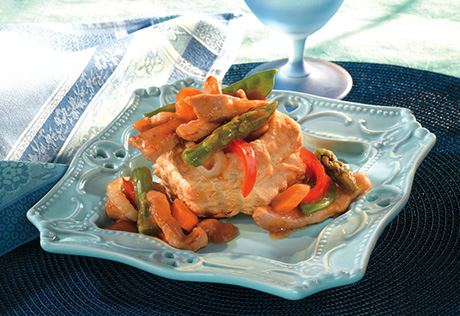 Ingredients & Directions
2 tablespoons cornstarch
1.75 cups Swanson® Vegetable Broth
1 tablespoon soy sauce
2 tablespoons vegetable oil
1  pound boneless pork tenderloin, cut into very thin strips
1 cup fresh asparagus, cut into 2-inch pieces
1 cup green pepper or red bell pepper strips
1 cup carrot slices
1 cup snow peas
1 cup sliced onion
1/4 teaspoon garlic powder or 1 clove garlic, minced
1/2 teaspoon ground ginger
1 package (10 ounces) Pepperidge Farm® Puff Pastry Shells, prepared according to package directions
Stir the cornstarch, broth and soy sauce in a small bowl until the mixture is smooth.
Heat 1 tablespoon oil in a 10-inch skillet over medium-high heat.  Add the pork and stir-fry until well browned.  Remove the pork from the skillet.
Heat the remaining oil in the skillet.  Add the vegetables, garlic powder and ginger and stir-fry until the vegetables are tender-crisp.
Stir the cornstarch mixture in the skillet.  Cook and stir until the mixture boils and thickens.  Return the pork to the skillet.  Cook until the pork is cooked through.  Spoon the pork mixture into the pastry shells.
Tips
Easy Substitution: You can substitute 4 skinless, boneless chicken breast halves (about 1 pound) for the pork in this recipe.