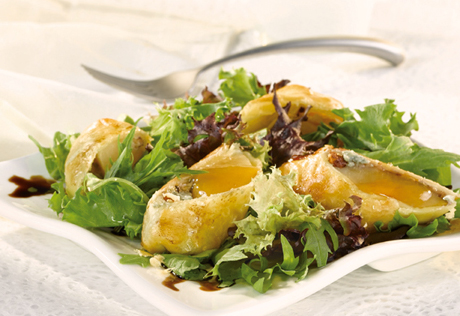 Ingredients & Directions
1 egg
1 tablespoon water
1/2 of a 17.3-ounce package Pepperidge Farm® Puff Pastry Sheets(1 sheet), thawed
3 canned pears, juice packed halves, well drained
3/4 cup crumbled gorgonzola cheese (about 3 ounces)
1/4 cup walnuts, toasted and chopped
2 tablespoons honey
6 cups mixed salad greens
2 tablespoons prepared oil & vinegar salad dressing
Heat the oven to 400°F.  Beat the egg and water in a small bowl with a fork.
Unfold the pastry sheet on a lightly floured surface.  Cut the pastry sheet in half lengthwise .  Cut each half into thirds, making a total of 6 pieces.  Roll each pastry piece into 1 (5x5-inch) square.  Brush the pastry squares with the egg mixture.
Cut the pear halves in half lengthwise.  Place 1 pear piece on the bottom half of each pastry square.  Top each with 2 tablespoons cheese, 2 teaspoons walnuts and 1 teaspoon honey.  Fold 2 opposite sides of the pastry over the filling.  Starting at the short side with the pear, roll up like a jelly roll.  Press the seams to seal.  Place the pastries, seam-side down, onto a baking sheet.  Brush the pastries with the egg mixture.  Cut 1 (1/2-inch) slit in each pastry top.
Bake for 20 minutes or until the pastries are golden brown. Remove the pastries from the baking sheet and let cool on a wire rack for 5 minutes.  Cut the pastries diagonally into bite-sized pieces.
Place the salad greens into a large bowl.  Add the dressing and toss to coat.  Arrange the salad on a serving platter and top with the pastry pieces.