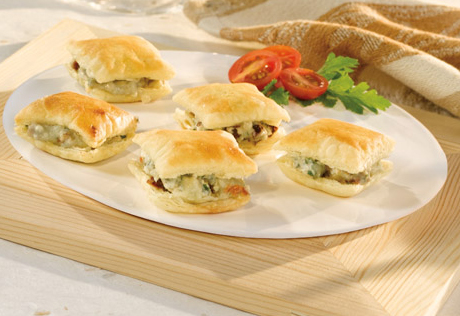 Ingredients & Directions
1/2 of a 17.3-ounce package Pepperidge Farm® Puff Pastry Sheets (1 sheet), thawed
1 egg
1 tablespoon water
4 ounces gorgonzola cheese, crumbled
4 ounces (1/2 of an 8-ounce package) cream cheese, softened
0.333 cup walnuts, toasted and chopped
2 tablespoons minced sun-dried tomatoes
1 tablespoon chopped fresh parsley
to-taste cracked black pepper
Heat the oven to 375°F.  Beat the egg and water in a small bowl with a fork or whisk.
Unfold the pastry sheet on a lightly floured surface.  Roll the pastry sheet into a 12-inch square.  Cut into 24 (3x2-inch) rectangles.  Place the pastry rectangles onto a baking sheet.  Brush with the egg mixture.
Bake for 10 minutes or until the pastries are golden brown.  Remove the pastries from the baking sheet and let cool on a wire rack for 10 minutes.  Split the pastries into 2 layers, making 48 in all.
Stir the Gorgonzola cheese, cream cheese, walnuts, tomatoes and parsley in a medium bowl with a fork.  Season with the black pepper.  Spread 1 tablespoon cheese mixture onto 24 bottom pastry layers and top with the top pastry layers.
Bake for 5 minutes or until the filling is hot.