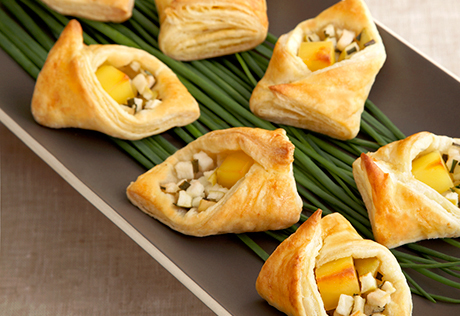 Ingredients & Directions
1 large Granny Smith apple, finely chopped (about 1 1/2 cups)
1/4 cup chopped fresh chives
2 tablespoons sugar
1 package (17.3 ounces) Pepperidge Farm® Puff Pastry Sheets, thawed
3 ounces smoked Gouda cheese, cut into 48 (1/2-inch) cubes
Heat the oven to 400°F.  Stir the apple, chives and sugar in a medium bowl.
Unfold 1 pastry sheet on a lightly floured surface.  Roll the pastry sheet into a 16x12-inch rectangle. Cut into 12 (4-inch) squares.  Cut each pastry square in half diagonally to make 24 triangles.  Repeat with the remaining pastry sheet.

Place about 1/2 teaspoon apple mixture on the bottom third of the longest side of each pastry triangle.  Top each with 1 cheese piece.  Brush the 2 bottom corners with water.  Fold the bottom corners over the filling and press to seal.  Press the bottom edge of the pastry to seal, leaving the top of the pastry open.  Place the pastries onto 2 baking sheets.

Bake for 15 minutes or until the pastries are golden brown.  Remove the pastries from the baking sheets and let cool on wire racks for 10 minutes.  Sprinkle with additional chopped chives, if desired.

Tips
Easy Substitution: You may substitute smoked Edam cheese for the smoked Gouda in this recipe.