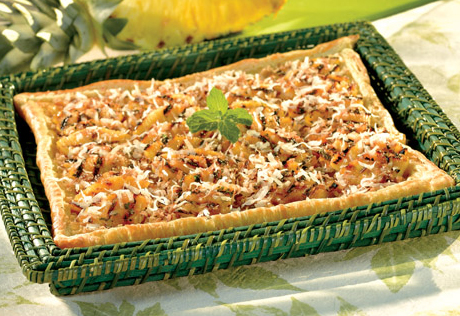 Ingredients & Directions
1 pineapple, peeled, cored and cut into 10 (1/4-inch-thick) slices
2 tablespoons vegetable oil
1/2 of a 17.3-ounce package Pepperidge Farm® Puff Pastry Sheets(1 sheet), thawed
1 egg, beaten
1/4 cup packed brown sugar
1 tablespoon chopped fresh mint leaves
1/2 teaspoon ground ginger
1/2 cup sweetened flaked coconut, toasted
4 cups vanilla ice cream
Heat the oven to 400°F.
Lightly oil the grill rack and heat the grill to medium.  Brush the pineapple slices with the oil.  Grill the pineapple slices for 5 minutes or until tender, turning them over once halfway through grilling.   Cut each pineapple slice into quarters.
Unfold the pastry sheet on a lightly floured surface.  Roll the pastry sheet into a 12-inch square.  Place the pastry sheet onto a baking sheet.  Brush the edges of the pastry with water.  Fold over the edges 1/2 inch on all sides, crimping with a fork to form a rim. Prick the center of the pastry thoroughly with a fork. Brush the pastry with the egg.
Arrange the pineapple pieces on the pastry, overlapping slightly.  Stir the brown sugar, mint and ginger in a small bowl. Sprinkle the sugar mixture over the pineapple.
Bake for 20 minutes or until the pastry is golden brown.  Let the pastry cool on the baking sheet on a wire rack for 5 minutes.  Sprinkle with the coconut.  Serve warm with the ice cream.
Tips
Ingredient Note:  When choosing a pineapple, look for a bright yellow-gold color and a mild, sweet pineapple aroma at the base.