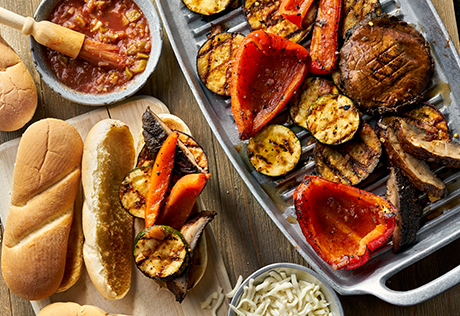 Ingredients & Directions
1 cup Pace® Picante Sauce
1/4 cup red wine vinegar
2 teaspoons dried oregano leaves, crushed
2 cloves garlic, minced
2 portobello mushroom
1 small eggplant, sliced lengthwise 1/2-inch thick
2 small zucchini, sliced lengthwise
1 large green pepper or red bell pepper, cut in half and seeded
4 Pepperidge Farm® Soft White Hoagie Rolls with Sesame Seeds, toasted
1/2 cup shredded mozzarella cheese(about 2 ounces)
Stir the picante sauce, vinegar, oregano and garlic in a small bowl.
Lightly oil the grill rack or a grill pan and heat to medium. Grill the mushrooms, eggplant, zucchini and pepper for 15 minutes or until tender, turning halfway through grilling and brushing often with the picante sauce mixture. Slice the mushrooms and the pepper.
Serve the vegetables in rolls and top with the cheese. Serve with additional picante sauce.
Tips
Make Ahead Freezer Meal:
1. Grill the vegetables as shown above.  Let cool completely, seal in resealable microwavable freezer bags and freeze. (If your freezer bags can't go in the microwave, remove vegetables to a microwaveable plate before reheating.)
2. Thaw in refrigerator and microwave for 2 on HIGH minutes or until hot.  Or, to reheat from frozen and microwave on HIGH for 3 minutes or until hot.
3. Assemble sandwiches as shown above.