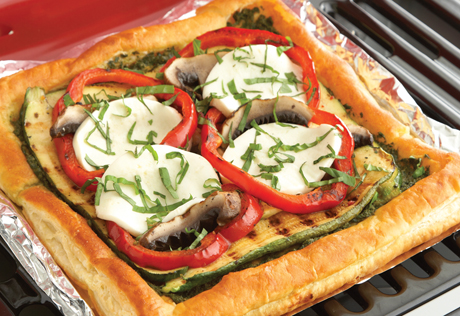 Ingredients & Directions
1 egg
1 tablespoon water
2 tablespoons all-purpose flour
1 package (17.3 ounces) Pepperidge Farm® Puff Pastry Sheets, thawed
2 small zucchini, sliced lengthwise
1 medium red bell pepper, cut into 1/4-inch rings
2 portobello mushroom cap
2 tablespoons Italian salad dressing
4 ounces basil pesto(about 1/2 cup)
4 ounces fresh mozzarella cheese, thinly sliced
1 tablespoon fresh basil leaves, cut into thin strips
Heat the oven to 400°F.  Line 2 baking sheets with heavy-duty aluminum foil.  Beat the egg and water in a small bowl with a fork. 

Sprinkle the flour on the work surface.  Unfold 1 pastry sheet on the work surface.  Using a sharp knife, score a 1-inch border around the edge of the pastry sheet.  Prick the center of the pastry thoroughly with a fork.  Brush the pastry with the egg mixture.  Place the pastry onto 1 baking sheet.  Repeat with the remaining pastry sheet.

Bake for 15 minutes or until the pastries are golden brown.  Let the pastries cool on the baking sheets on wire racks.

Brush the zucchini, pepper and mushroom caps with the dressing.  Lightly oil the grill rack and heat the grill to medium.  Grill the vegetables for 20 minutes or until tender, turning over once halfway through the grilling time and brushing often with the dressing.  Remove the vegetables from the grill.  Cut the mushroom caps into thin slices.

Leave the pastries on the baking sheets.  Spread half the pesto on each pastry.  Divide the vegetables and cheese between the pastries.
Slide the foil with the pastries off of the baking sheets and onto the grill.  Cover and grill for 1 minute.  Slide the foil with the pastries off the grill and back onto the baking sheets to transport and serve.  Sprinkle with the basil.