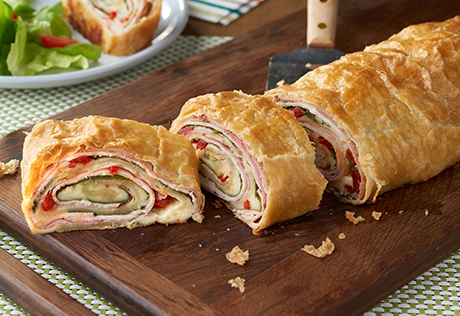 Ingredients & Directions
1/2 of a 17.3-ounce package Pepperidge Farm® Puff Pastry Sheets(1 sheet), thawed
1 egg
1 tablespoon water
1/2 pound sliced cooked ham
1/2 pound sliced cooked turkey
1 cup fresh spinach leaves
4 ounces sliced Swiss cheese
2 tablespoons chopped pimiento (optional)
Set the pastry sheet out to thaw while you gather the remaining ingredients.  Heat the oven to 400°F.  Beat the egg and water in a small bowl with a fork.
Unfold the pastry sheet on a lightly floured surface.  Roll the pastry sheet into a 16x12-inch rectangle.  With the short side facing you, layer the ham, turkey, spinach and cheese on the bottom half of the pastry to within 1 inch of the edge.  Sprinkle with the pimientos, if desired.  Starting at the short side, roll up like a jelly roll.  Place seam-side down onto a baking sheet.  Tuck the ends under to seal.  Brush the pastry with the egg mixture.
Bake for 25 minutes or until the pastry is golden brown.
Tips
How to Thaw? Thaw time may vary. Pastry should unfold easily but still be cold after thawing. At room temperature, thaw unwrapped pastry for no more than 40 minutes. In the microwave, wrap pastry in paper towel and microwave on HIGH for 15 seconds, then turn it over and microwave for another 15 seconds. If it doesn't unfold easily, microwave for another 5 seconds on each side.