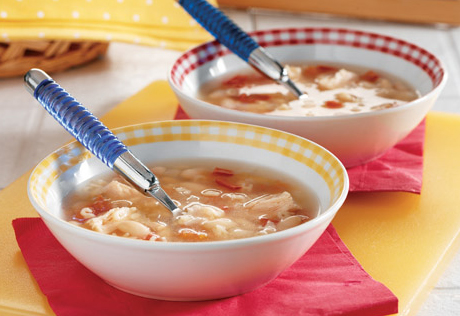 Ingredients & Directions
1 large onion, chopped (about 1 cup)
1 medium tomato, chopped (about 1 cup)
12 cups Swanson® Chicken Broth or Swanson® Certified Organic Chicken Broth
Swanson® Natural Goodness® Chicken Broth
1 can (about 15 ounces) white cannellini beans, rinsed and drained
1 can (9.75 ounces) Swanson® Premium White Chunk Chicken Breast in Water, undrained
1 cup uncooked alphabet pasta
1 tablespoon olive oil or vegetable oil
1/4 teaspoon garlic powder
2 packages (11.25 ounces each ) Pepperidge Farm® Texas Toast Parmesan
KIDS AND ADULT: Read the recipe and then gather all the ingredients and equipment needed.
ADULT: Chop the onion and tomato using the knife and cutting board. Open the cans of broth, beans and chicken using the can opener.
KIDS: Measure the pasta using a 1 cup dry measuring cup. Pour the beans into a strainer over the sink. Rinse the beans with cold water and drain. Measure the oil with a 1 tablespoon measuring spoon and pour into a 6-quart saucepot.
ADULT: Put the saucepot on a burner set to medium-high heat. Add the onion and cook until the onion is tender, stirring occasionally with the wooden spoon.
KIDS AND ADULT: Pour the broth into the saucepot. Measure the garlic powder using a 1/4 teaspoon measuring spoon and add to the saucepot. Increase the heat to high. Heat to a boil, stirring occasionally with a wooden spoon. Add the pasta and return the broth mixture to a boil, stirring occasionally. Boil for 5 minutes.
KIDS AND ADULT: Add the beans, tomato and chicken with its liquid. Reduce the heat to low. Cook for 5 minutes or until the pasta is tender.
KIDS: Remove the toast from the package and place it on a baking sheet.
ADULT: Bake the toast according to the package directions.
KIDS AND ADULT: Remove the toast from the baking sheet with a pancake turner and put it in a napkin-lined serving basket. Ladle the soup into serving bowls and serve with the toast.