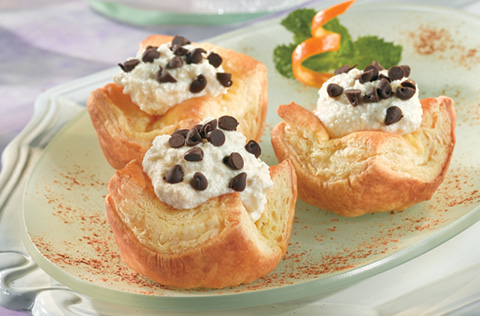 Ingredients & Directions
2 tablespoons all-purpose flour
1/2 package Pepperidge Farm® Puff Pastry Sheets(1 sheet), thawed according to package directions
1 egg, beaten
1 cup ricotta cheese
1/4 cup sugar
1/2 teaspoon vanilla extract
1/8 teaspoon ground cinnamon
1/8 teaspoon finely grated orange peel
1/4 cup mini semi-sweet chocolate piecesand/or finely chopped pecans
Spray 12 (2 1/2-inch) muffin pan cups with vegetable cooking spray. Heat the oven to 375°F.
Sprinkle the work surface with the flour. Unfold the pastry sheet on the floured surface. Roll the pastry into a 12 x 9-inch rectangle. Cut the pastry into 12 (3-inch) squares. Press the squares into the prepared muffin pan cups. Brush the top edges of the pastry square with the egg and prick the bottom of the pastry squares with a fork.
Bake for 10 minutes or until the pastry is golden brown. Cool the pastry in the pan on a wire rack for 10 minutes. Using a small knife, cut a small slit in the puffed center of each tartlet shell and gently press down. Remove the tartlet shells from the pan and cool completely on the wire rack.
Place the ricotta cheese, sugar, vanilla, 1/8 teaspoon cinnamon and orange peel, if desired, in a medium bowl. Beat with a whisk until the ricotta mixture is smooth. Cover the bowl and refrigerate until ready to use.
Pipe or spoon a heaping tablespoon of the ricotta mixture into each tartlet shell. Sprinkle with the chocolate, pecans or additional cinnamon, if desired and serve immediately.
Tips
Make-Ahead: The ricotta filling mixture can be made 1 day ahead and refrigerated until ready to use.